Monticchiello - Pienza -
San Gimignano
For us Tuscany ticks every box for Italy. Breathtaking landscapes with wide verdant hills dotted with the famous cypress trees and the ever changing colours.
The many hilltop towns, each telling a different story inside their thick stone walls, and their high towers where their secrets are kept and guarded. No longer needed to defend Tuscan towns and villages - but to pose and shine for people to visit.
And then, the food – and not to forget the wine which comes with it – Tuscany rich and famous for both.
Tucked away amongst the rolling Tuscan landscape one can find some of the most idyllic, captivating and inviting Medieval villages. Yet most are ignored by the majority of tourists.
Choosing the perfect Tuscan Village
Choosing which typical Tuscan villages and towns to visit on your holiday can be challenging, especially if you want to stay off the beaten track.
To see as much as possible, it is definitely by car. Whilst driving around this gorgeous region you can find some of the most authentic and beautiful towns and villages in Tuscany. They will give you the real taste of "la bella vita"!
Here are our favorite three and not to be missed Tuscan Medieval Villages.
Also perfect to take the kids and keep them occupied.
Monticchiello - The hidden gem
Situated south of Sienna in the Val d'Orcia is this tiny fortified medieval village known as the "Terrazza della Val' Orcia" - the terrace of Val d'Orcia.
It is set high on a hill with absolutely stunning views across the valley to Pienza in the Val d'Orcia which was designated a UNESCO World Heritage site in 2004.
I stumbled onto this Tuscan gem, Monticchiello, by navigating us with my road map on my knee cross country rather than letting the GPS choose the route.
There was a lot of "please make a U turn" but we ignored the commands and kept on navigating through some super tight roads. We finally reached Monticchiello on the SP88
The parking is on the road leading up to the village gate.
Once you enter the Porta Sant'Agata (village gate) it seems as though time has frozen for Monticchiello. There are less than 200 inhabitants, and you can see that they take great pride in their homes. There are pots with colourful blooming flowers all over and the laundry hanging from strings high above just makes this the picture-perfect village.
If you travel with kids and they need to get rid of some energy, there is a playground just outside the village gate and a small coffee/ice cream shop.
The beautiful church - Santi Leonar - situated in the village centre, and as expected decorated with flowers awaits you to enter to explore its peaceful interior.
If you would like to taste the local cuisine try La Taverna di Moranda or Osteria La Porta.  We did not stop for lunch but you can check Tripadvisor for reviews of both restaurants.
Another Tuscan must see, featured regularly in tourism promotions and advertising is the winding road lined by cypress trees passing through a beautiful green countryside
It is on the VIA Pietro Lorenzetti SP88 just before reaching Monticchiello.
It's nearly impossible to make a photo to show the true beauty without a drone.
Pienza- The romantic village
Just 20min from Monticchiello is the beautiful village of Pienza in the Val d'Orcia south of Tuscany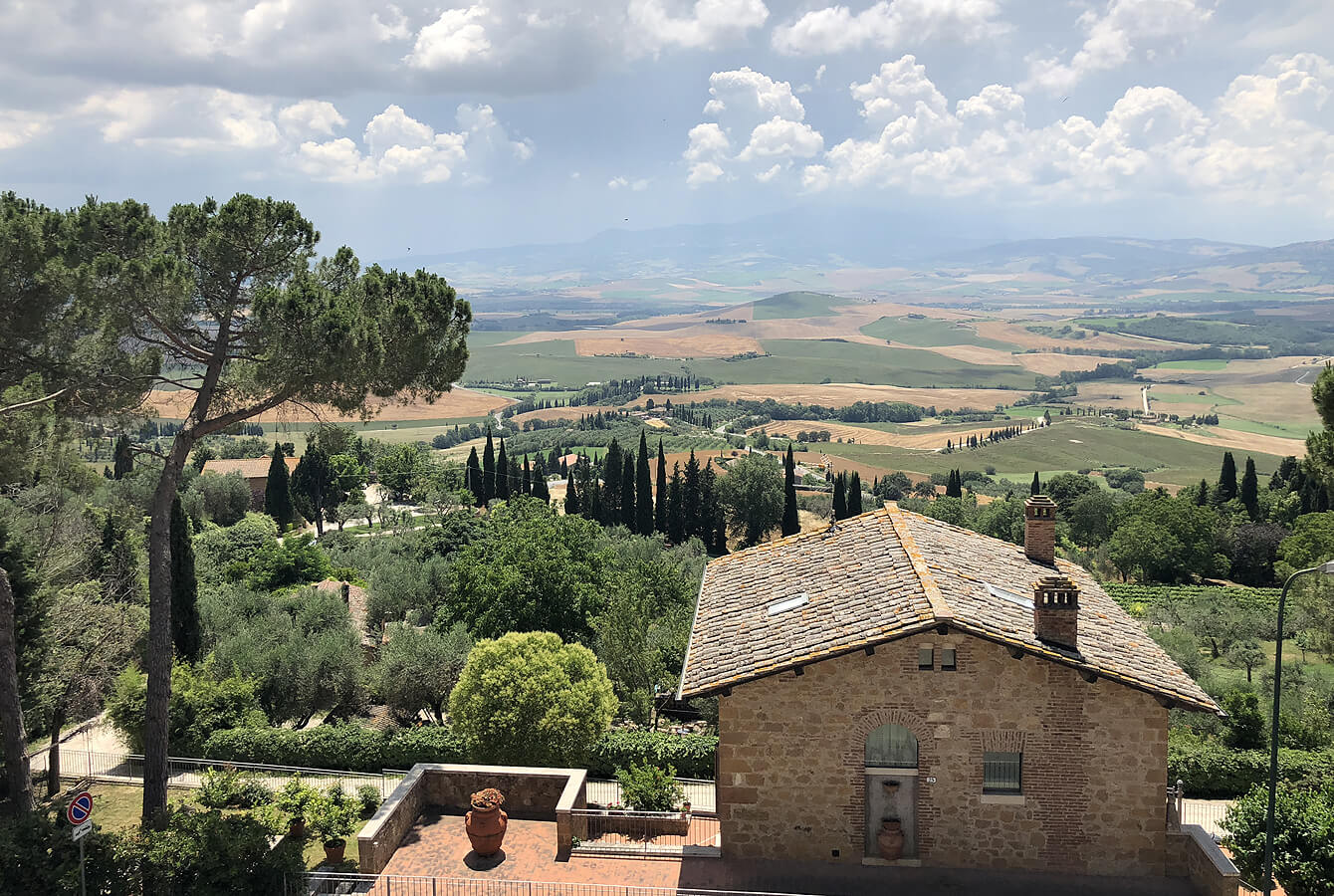 The rebuilding of Pienza according to humanist urban reorganization was an example for many other Italian and European cities. In 1996 UNESCO decided to make the centre of Pienza into a World Heritage Site.
Piazza Pio II is the main focus point of Pienza as all of the town's main monuments are located on this square.
But Pienza is also a romantic city with street names such as Via dell'Amore (love street) and Via del Bacio (kiss street). If you are in a romantic mood you should definitely visit this place! It was also the centre of filming some scenes of the famous and romantic movie Romeo and Juliet!
If you love pecorino cheese then this is your place as Pienza is considered the "capital" of sheep cheese. This high quality cheese is made from an especially flavoursome and aromatic milk thanks to the succulent sheep pastures in Val d'Orcia. Honestly the smell is quite strong…
The breathtaking views over the Tuscan hills and countryside on the outskirts of the village walls make this place a definite MUST VISIT.
It has inspired artists and poets from all over the world.
Recommendation; find a nice spot, grab a drink and watch the world go by. Time will fly.
There are different parking places available outside the village walls, most of them are payable but it is only a small fee.
San Gimignano– step back into medieval times
If you have to describe a medieval village, San Gimignano is a perfect example. An amazingly well preserved hill town village surrounded by the Ellsa Valley in Tuscany. It is part of the Sienna province southwest of Florence.
When you approach the village by car you suddenly see a skyline of 14 towers of various heights posing in the blue sky. Try to stop and make a photo.
At the height of its glory there were 72 towers/homes built by the important families as a way to display their wealth and power.
Designated a UNESCO World Heritage Site in 1990, San Gimignano is a step back in time and affords a great medieval village experience. Don't forget to sample the local products including saffron and its white wine, the Vernaccia di San Gimignano.
Attention, there are 2 Ice cream shops that claim to have wan worlds best ice cream. They were yummy, we all agreed, and some even had seconds.
Amble through the small streets, enter through the heavy wooden doors, be nosy, there is so much to discover throughout the village. Look out from the viewpoints, they will not disappoint.
Parking
San Gimignano can get very busy especially during the summer months, but there are several parking lots that surround the town.
Arriving from the South,
right at the first roundabout is P1 Giubileo which is the largest and cheapest at €1,50/hour and max per day is €6. From here you can walk up quite easily to the main entrance into San Gimignano.
The P2 Montemaggio has 3 disabled parking spaces, but costs €2/hour with a max per day of €20. It is the closest to the main door but is often full.
San Gimignano's parking is well organised and you can find up to the minute information on availability in each lot by checking the official site: here
Arriving from North
The closest parking lots as you arrive into town are P3 Bagnaia Superiore and P4 Bagnaia Inferiore. They are pretty much right next to each other and are right below the north eastern edge of the town. Both cost €2/hour with a max of €15 per day.
All parking has to be paid in cash at the respective ticket machines before you leave.
I hope you enjoyed the discovery of these beautiful must seen Tuscan Villages!
To get ready for this trip, submerge yourself into these Novels set in Tuscany
You may also like
If you enjoyed this article, share it & Pin-it, talk to your friends and most importantly go and pack for a visit.
If you would like to have more information, GET IN TOUCH or leave a comment below.